National News
No verification required for Museveni's academic documents – EC writes to Lawyer
No verification required for Museveni's academic document – EC writes to Lawyer: No verification required for Museveni's academic document – EC writes to Lawyer:
The Electoral Commission (EC) says that president Museveni's academic papers that he used in 2016 presidential elections do not need any verification.
EC notes, while responding to city lawyer, Muwada Nkunyingi's letter on Aug 21, 2020! who asked EC to avail him with Museveni's academic papers. Muwada wanted EC body to show him the documents that Museveni used in 2016 presidential candidates as required by the presidential elections Act 2005.
However, in it's response, Mulekwa Leonard, the acting secretary at EC wrote to the lawyer about the matter. Leonard says that president Museveni's papers are governed under section 4(15) of the president elections Act 2005 as amended.
"It states; For avoidance of doubt, if a candidate has an advanced level certificate obtained in Uganda or qualifications higher than the prescribed qualification obtained in Uganda! or obtained from the former University of East Africa or any of its constituent colleges, then there shall be no need for the verification of his or her qualifications by the National Council for Higher Education," Mulekwa says in a letter dated September 3.
However in his letter to the EC, Nkunyingi, had expressed doubt in regard to the propriety of candidate Museveni's nomination generally as a presidential candidate for the 2016 presidential elections.
But the EC responded: "As to whether the nomination was proper and or legal or legitimate. Please note that the particular issue was conclusively in PRESIDENTIAL ELECTION PETITION No. 01 of 2018 (Amama Mbabazi Vs Museveni, EC and Ors) Supreme Court of Uganda at Page 7 thereof; The Justices inter alia made the following remarks:
No verification required for Museveni's academic document – EC writes to Lawyer
"According to our findings… we find that the 2nd respondent nominated there 1st respondent as a Presidential candidate in accordance with provisions of the PEA…. Accordingly, we find that there was no failure with provisions of the respondent to comply with… the PEA," Mulekwa adds.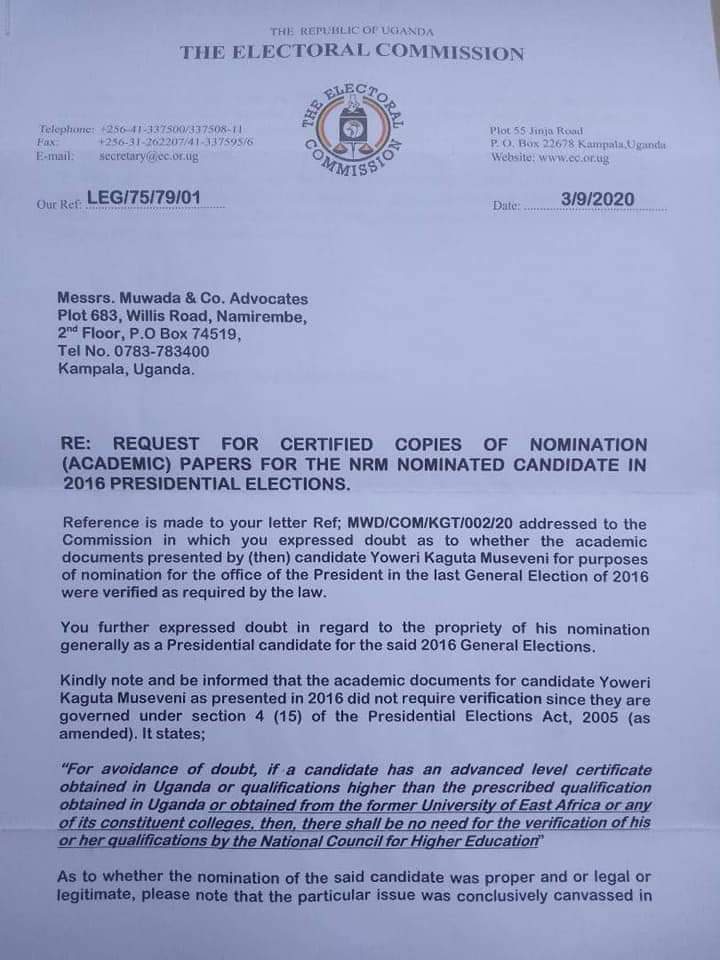 Surprisingly, early this month, Nkunyingi noted he would exhaust all legal means to force the Electoral Commission! to avail him with academic documents that candidate Museveni used in the 2016 elections.
Nkunyingi says that while giving out candidate Kyagulanyi's academic papers to lawyer Male Mabirizi! EC quoted the Access to Information Act. And it is the same law he quoted while asking for candidate Museveni's documents.
"The difference is only in submission. Candidate Museveni submitted his papers in 2016, candidate Kyagulanyi submitted his in 2017. Then why should they delay my request?" Nkunyingi notes.
Also Read: Facts on why Chameleon was left out for Ssebagala on Mayorship